EVENTS + WORKSHOPS + PROMOTIONS
New Client Special: 7 Day FREE Trial
New clients to FitPoint can take unlimited classes for 7 days FREE of charge!
Get started on a your fitness journey or kick your routine up a notch with our wide variety of classes and terrific instructors.
Sign up for your first class to get started!
Start 2018 with 1-on-1 Membership or Package and SAVE $$$!
Schedule your initial consultation/assessment. If you purchase either 1-on-1 Membership or Package, we'll WAIVE the initial fee of $50.
Options:
MONTHLY 1-on-1 MEMBERSHIP
5, 8, or 12 sessions per month.
As a BONUS: We will match your sessions with group fitness classes!
OR
1-ON-1 PACKAGES
10, 14, or 20 sessions to use in 6 months.
Join for personal training, private Yoga, or private Pilates.
We want to reward you for committing to health and fitness in 2018.
Learn more about pricing and our terrific instructors.
Special Events in January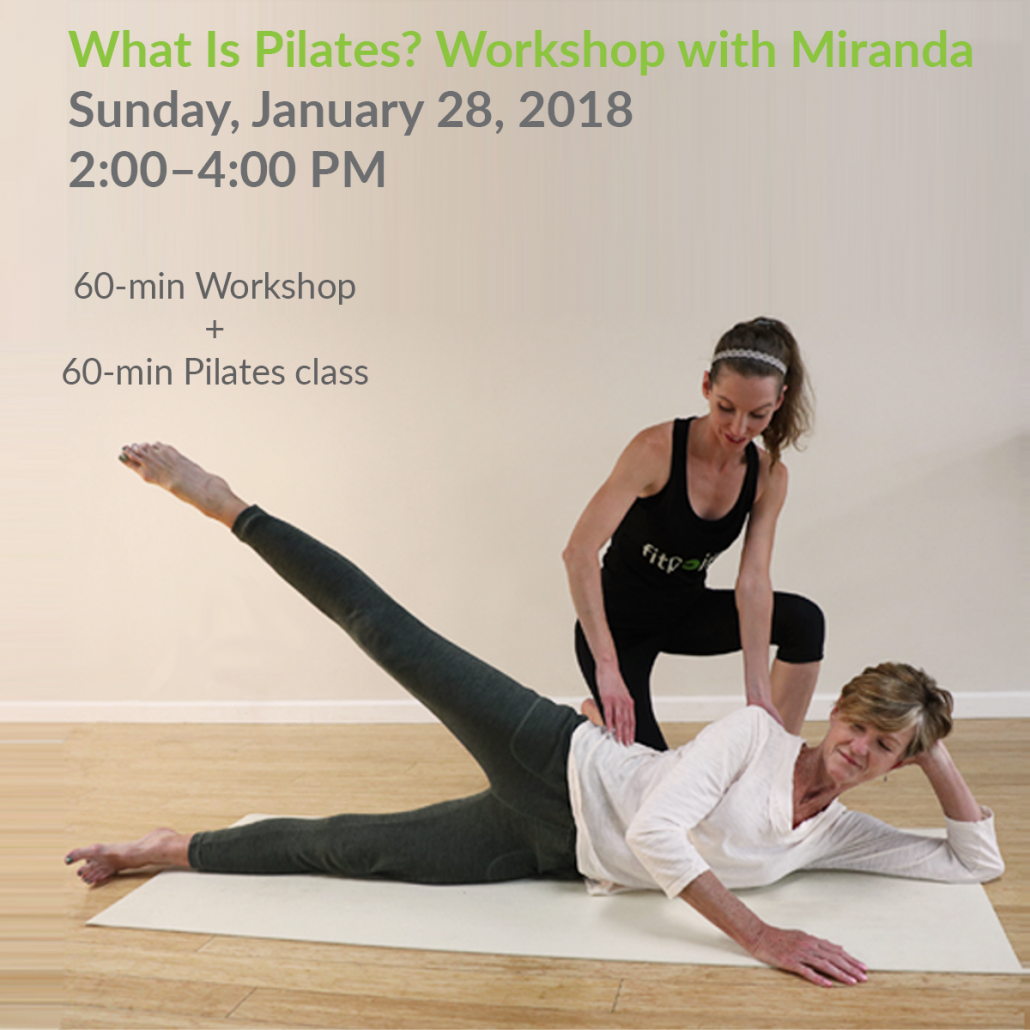 Introduction to Pilates Principles Workshop with Miranda
Sunday, January 28, 2018
2:00 – 4:00 PM
First Hour: What is Pilates?
Answers to what makes Pilates different from other exercise systems, review of the 9 Pilates principles, introduction to applying the principles to exercises
Second Hour: Mat Pilates Class
Integrate these principles into our practice, get 1-on-1 attention and corrections from Miranda, modifications for every exercise
Click here for our Facebook Event and invite with your friends!
ALL FITNESS LEVELS WELCOMED 
$40 Members / $50 non-Members  |  20% off now through January 17th!
Call, text, or email the studio to reserve your spot.
Special Events in February
FitPoint's 2nd Anniversary Celebration
FREE CLASSES ALL DAY!
Monday, February 19, 2018
6am CycleHIIT
7:15am D-HOP
9:30am CycleHIIT
10:45am Vinyasa Yoga
12pm Fit Power Lunch
1:30pm Mat Pilates
3pm Kids Conditioning
4:30pm FitCycle
5:30pm CycleYoga
7pm FitHIIT
8:15pm Hatha Yoga
Join us for free refreshments, raffles, giveaways, and special visits from local vendors!
Call, text, or email the studio to reserve your spot in the classes listed above.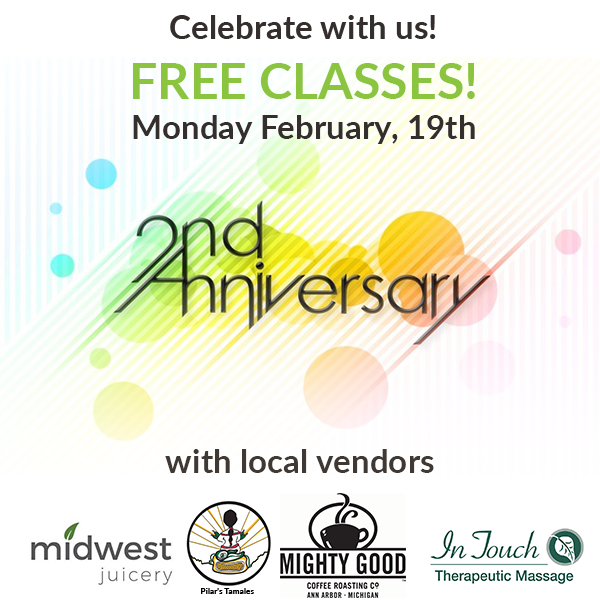 January 2018 Challenge
Take 25 Classes in 30 Days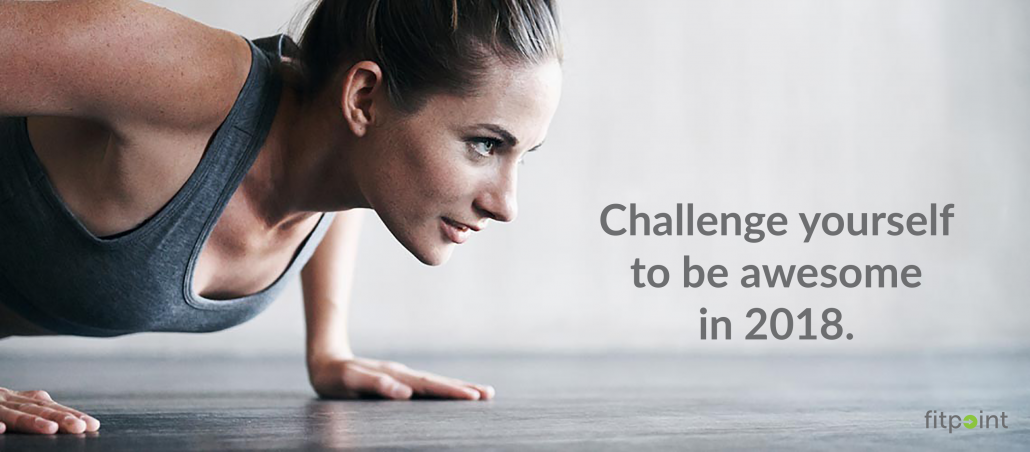 The Challenge
Attend 25 classes in 30 days. Start any day in January 2018. Your 30-day period begins that day. No limit on number of classes per day!
Work hard with HIIT, DHOP, and Cycling. Recover with Yoga and Pilates
…and still take at least one day off per week!
The Reward
50% off next month's membership or package
Complete the Challenge and join our clients on the FitPoint Honor Roll!
FitPoint is Proudly Supporting the Following Area 5Ks
Colors of Cancer: Saturday, September 16, 2017 11:00 AM @ Rolling Hills County Park (Ypsilanti)
Run with RAHS: Saturday, September 30, 2017 8:00 AM @ EMU Convocation Center (Ypsilanti)
Run the World for Global Education: Sunday, October 8, 2017 9:30 AM @ Gallup Park (Ann Arbor)
The Purple Run for Safehouse Center: Saturday, October 21, 2017 9:00 AM @ University of Michigan Duderstadt Center (Ann Arbor)
Girls On the Run Superhero 5K: Sunday, October 22, 2017 9:00 AM @ Hudson Mills Metropark (Dexter)
Ann Arbor Turkey Trot: Thursday, November 23, 2017 8:30 AM @ downtown Ann Arbor
****************
FitPoint has donated class package certificates to participants and category winners for these great causes. If you have an event for which you would like FitPoint in-kind donations, please call / email the studio!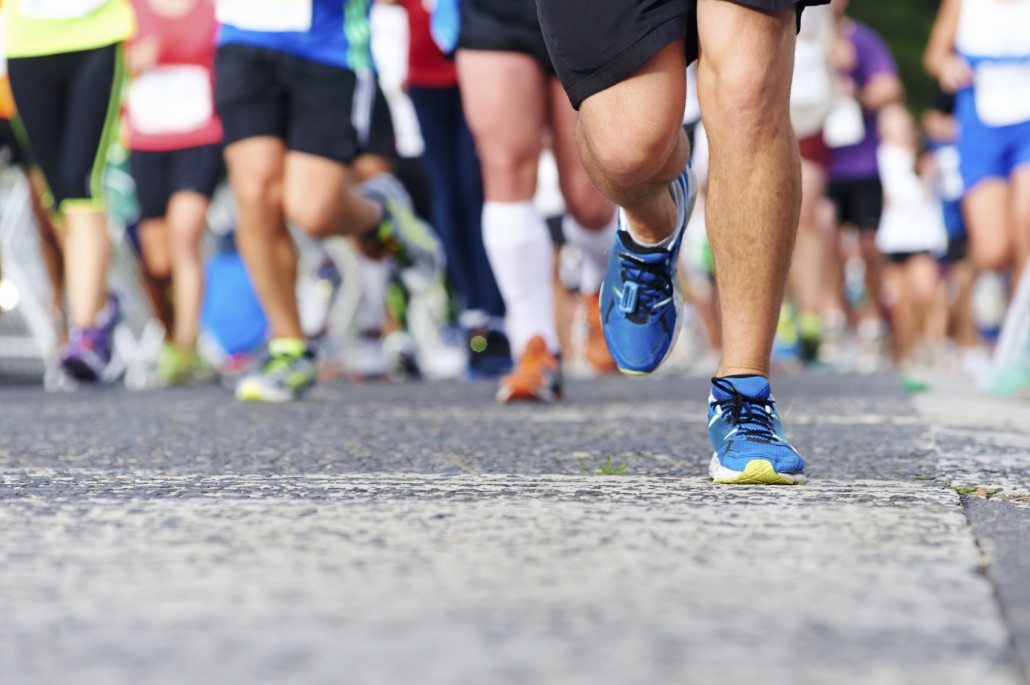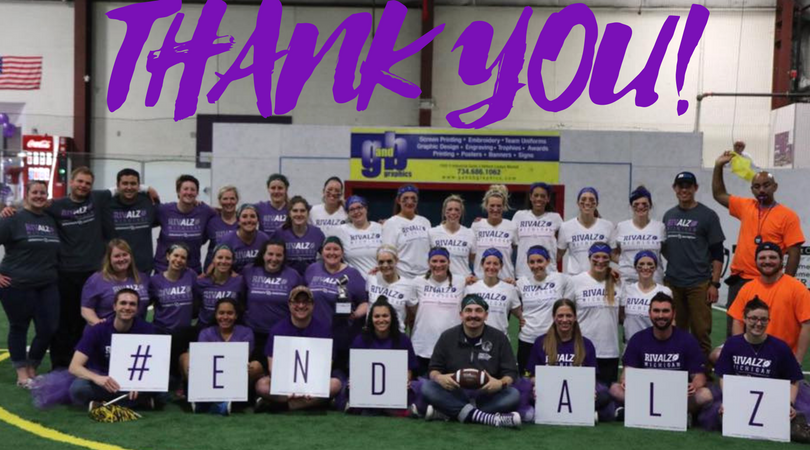 FitPoint & The Alzheimer's Association
After a couple months of fundraising, FitPoint's own Anne (Yoga) and Jamie (Fitness, Personal Training) participated in the RivALZ flag football game on April 22, 2017, to raise money and spread awareness for the Alzheimer's Association and, locally, Young Professional Alzheimer's Advocates of Washtenaw.
Instructors Anne and Jamie offered donation-based classes open to the public to continue the fundraising effort leading up the big game.
We met our goal thanks to the compassion and generosity of our members and their friends and family.
Thank you to all who donated!
Stay tuned for information on next year's RivALZ team and fundraising events!!
Bring a friend or family member to FitPoint! If they join as a member or purchase a package, both of you get 15% off the package or first/next month's membership.
It's that easy!