+ CYCLING
We offer 60 minute Cycling classes and four HYBRID classes: a mix of 30 min Cycling + 30 min Yoga, Pilates, Barre, or HIIT.
It is the best way to get a complex workout with high calorie burn, while strengthening & stretching your muscles.
All levels are welcome!
For Cycling, please call 1-734-531-9958, email, or text the FitPoint studio to reserve your spot ahead of time. We have a 24-hour cancellation policy for all Cycling classes.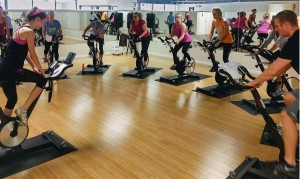 FitCycle
Feel energized all day and push your yourself with rolling hill climbs, sprints, and jumps in this 60 minute indoor cycling class.
CycleBarre
Get your cardio burn in 30 minutes on our indoor Keiser cycles, then strengthen and tone your lower and upper body while your core is engaged with intense isometric exercises for 30 minutes during barre.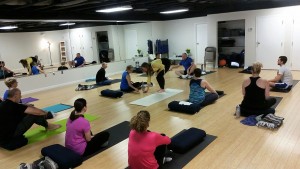 CycleYoga
Raise your heart rate in a 30 minute indoor cycling class on our Keiser bikes, then in the following 30 minutes, relax your muscles, quiet your mind, and get in touch with your breath and body during slow flow Yoga.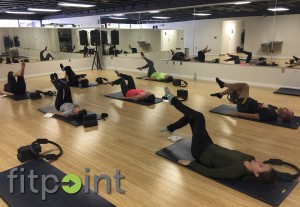 CyclePilates
Get your cardio burn in 30 minutes on our indoor Keiser bikes, then strengthen your core and lengthen your muscles in a 30 minute Mat Pilates class.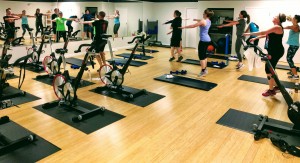 CycleHIIT
The workout starts with 30 minutes of high energy, heart pounding cycling, followed by a high intensity interval workout with weights and body weight exercises.

+ GROUP FITNESS
All fitness levels welcome. Please wear athletic shoes with non-marking soles. 
All classes are 60 minutes long.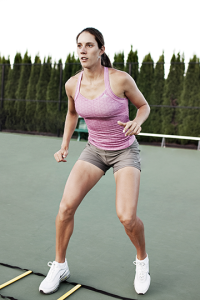 D-HOP (Dominika's House of Pain)
Based on her experiences as a professional athlete, Dominika created a fitness & conditioning circuit class for a total body workout – designed to challenge all major muscle groups. Go beyond fancy footwork with a series of agility and plyometric drills to help you become faster and stronger. A great class for athletes, from high school, to collegiate, to amateur competitive, and professional.
FIT HIIT
Fit HIIT (High Intensity Interval Training) is a high-energy, interval-style full body workout, combining pure muscle conditioning, cardio, and ab work in a series of body weight and free weight exercises.
FIT KIDS CONDITIONING
This class gets kids moving with cross training and strengthening, and a variety of explosiveness, agility, balance and flexibility exercises. It builds skills for any sport, or helps kids just be fit and healthy.
Ages: 7–13.
FIT HIIT 30
Get your workout in during your lunch break to re-energize your body and mind! Fit HIIT In 30 = a high-energy, interval style workout, leaving you with time to clean up and grab a bite. Starts with a 5-min warm up, ends with a 5-min stretch routine. In between is all work: 20 minutes of interval training, getting your heart rate up, working the whole body, and burning calories. After this HIIT class, you can get on with your day, feeling like you accomplished your fitness goals.
FIT "POWER LUNCH"
Fusion-style class incorporating Pilates, functional fitness and strength-training drills to sculpt, build strength and work your core. Designed for the busy schedule as leaving early is understandable.
FIT MOM & BABY
We welcome baby to join you for this Pilates and full-body conditioning workout to reactivate and re-engage you in fitness. Our instructors offer modifications and different ways to entertain baby, and encourage nursing, bottle-feeding or diaper changing if necessary.
ZUMBA!
We take the "work" out of workout, by mixing low-intensity and high-intensity moves for an interval-style, calorie-burning dance fitness party. Once the Latin and World rhythms take over, you'll see why Zumba® Fitness classes are often called exercise in disguise. ZUMBA is a total body workout, combining all elements of fitness – cardio, muscle conditioning, balance and flexibility, boosted energy and a serious dose of awesome each time you leave class!